Description
EXCELLENT FOR HIGHER POWER NEEDS OFF-GRID. IF YOU RELY ON 240 VOLT APPLIANCES THAT NEED A HIGHER CURRENT, THIS BATTERY CAN HANDLE A LARGER INVERTER SO YOU CAN KEEP YOUR ESSENTIALS RUNNING.
The REDARC 12V 100Ah Heavy Duty variant has a recommended continuous discharge of 100A, ideal for applications requiring high currents like air compressors, and can be used with an inverter up to 1000W in size (per battery).
REDARC Lithium Deep Cycle Batteries are the ultimate in deep-cycle battery technology delivering unrivalled performance and battery life.
LITHIUM BATTERY FOR CARAVAN AND 4WD VEHICLES
Build the perfect battery bank for your 4WD, RV, camper, caravan, or boat.  Light weight with huge capacity, these batteries deliver longer lasting power, and they are built for Australia's toughest conditions!
LEADING 12V LITHIUM BATTERY SOLUTION
This battery is equipped with an internal Battery Management System (BMS) that can monitor and optimise each cell during charge and discharge to protect the battery pack from over charge, over discharge and short circuit.  The internal BMS also allows the balancing of cells within the batteries, allowing them to be configured and used in parallel to increase battery bank capacity for increased energy storage. You can parallel up to six 100Ah-HD batteries together.
Specifications
| | |
| --- | --- |
| GTIN_BARCODE | 9338628006465 |
| BRAND | REDARC |
| BATTERY CHEMISTRY | Lithium |
| BATTERY CAPACITY | 100Ah |
| MAX. CHARGER CURRENT | 50A |
| WEIGHT | 11kg |
| HEIGHT | 221 mm |
| WIDTH | 305 mm |
| DEPTH | LENGTH | 165 mm |
| WARRANTY | 2 Years |
LEADERS IN 12V TECHNOLOGY
Independently tested in our facility, you can trust that you will get what is on the label! The nominal capacity is what is running those appliances, e.g 100Ah = 100Ah – period. At REDARC we have applied our 12v expertise to ensure our LiFePO4 batteries are the best and with a decade of extensive offroad testing, they're perfectly suited for your caravan, camper trailer, RV or 4×4. REDARC's LiFePO4 batteries are available in capacities ranging from 60Ah to 200Ah and include an internal BMS (battery management system) which enables the batteries to be connected in parallel to increase capacity for even longer storage.
For an incredible amount of energy, you can parallel up to four of the 60Ah batteries, and up to six 100Ah, 100Ah-HD and 200Ah batteries*
COMPLETE YOUR BATTERY MANAGEMENT SYSTEM
You can also complete your whole battery management system by including solar and connecting your battery with REDARC's BCDC In-Vehicle Chargers available in 25amp, 40amp and 50amp variants or a Manager30 30A Battery Management System. For Total Vehicle Management, the RedVision system will enable the control and monitoring of many functions including switching devices and systems on and off, and monitoring water tank levels and battery levels***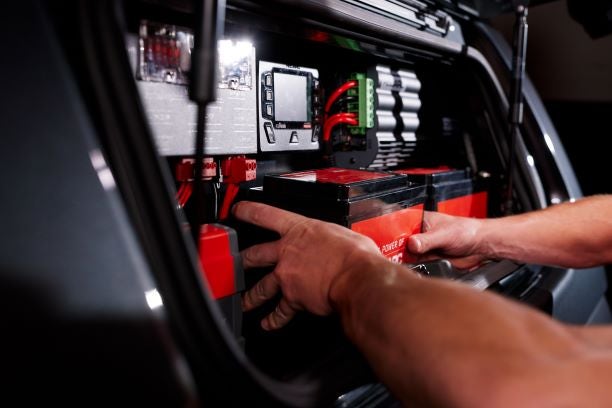 *Batteries must be paralleled with the same model.
**Lithium batteries are not recommended for cranking applications.
***When paired with a Manager30, RedVision will provide battery information.