Description
Never worry about losing power to your devices and appliances while you're off the beaten track. REDARC's Alpha150 12V 150Ah Lithium Battery is the ultimate choice for your caravan, camper, RV or 4×4.
With a 150Ah capacity and a massive 200A discharge current, the Alpha150 is built to endure even the most demanding energy needs. It's the ultimate single battery solution for running inverters up to 2000 watts and is the ultimate single battery solution for running for maximising space and minimising weight in caravans, camper trailers, RVs and 4WDs.
UNRIVALED POWER
A massive 200A discharge current means the Alpha150 is the ultimate solution to power inverters up to 2000 watts from a single battery. Simply add a second battery for inverters 3000W and above.
The Alpha150 leads the market in capacity per kg and size, further optimising space and minimising the weight of your system.
ENDURING LIFESPAN
A lifespan of over 5,000 cycles means the Alpha150 offers double the lifespan of most lithium batteries and ten times more than equivalent deep cycle AGM batteries. Spend less time worrying about your power and more time adventuring with a battery that's built to last.
BUILT FOR THE EXTREMES
The Alpha150 comes equipped with a built-in battery heater. From the Cape to the High Country, you can rely on the Alpha150 for power you can trust.
Robust and reliable, the Alpha150 sports an IP56 rating, offering full protection against dust and water ingress. Whether it's a dust storm in the desert or a downpour in the mountains, your power source remains secure and operational.
ONBOARD MONITORING
Stay informed with Bluetooth connectivity and the intuitive companion app. Real time battery level monitoring and energy consumption information is now just a tap away on your smartphone.
The advanced battery management system is protects your battery from overcharge, deep discharge, over-temperature, short circuit, and other common battery issues. This intelligent safety tool gives you the peace of mind to focus on your journey and not worry about your energy supply.
FEATURES:
150Ah battery capacity
High 200A discharge current
Supports up to a 2000W Pure Sine Wave Inverter from a single battery
Long lifespan of over 5000 cycles (at 100% depth of discharge)
Built-in battery heater
On-board Bluetooth connectivity and companion app for monitoring
IP56 rated to protect against dust and water ingress
5 Year Warranty
Specifications
More Information

| | |
| --- | --- |
| GTIN_BARCODE | 9338628006472 |
| BRAND | REDARC |
| BATTERY CHEMISTRY | Lithium |
| BATTERY CAPACITY | 200Ah |
| MAX. CHARGER CURRENT | 100A |
| WEIGHT | 25.5kg |
| HEIGHT | 242 mm |
| WIDTH | 485 mm |
| DEPTH | LENGTH | 170 mm |
| WARRANTY | 2 Years |
LEADERS IN 12V TECHNOLOGY
Independently tested in our facility, you can trust that you will get what is on the label! The nominal capacity is what is running those appliances, e.g 100Ah = 100Ah – period. At REDARC we have applied our 12v expertise to ensure our LiFePO4 batteries are the best and with a decade of extensive offroad testing, they're perfectly suited for your caravan, camper trailer, RV or 4×4. REDARC's LiFePO4 batteries are available in capacities ranging from 60Ah to 200Ah and include an internal BMS (battery management system) which enables the batteries to be connected in parallel to increase capacity for even longer storage.
For an incredible amount of energy, you can parallel up to four of the 60Ah batteries, and up to six 100Ah, 100Ah-HD and 200Ah batteries*
COMPLETE YOUR BATTERY MANAGEMENT SYSTEM
You can also complete your whole battery management system by including solar and connecting your battery with REDARC's BCDC In-Vehicle Chargers available in 25amp, 40amp and 50amp variants or a Manager30 30A Battery Management System. For Total Vehicle Management, the RedVision system will enable the control and monitoring of many functions including switching devices and systems on and off, and monitoring water tank levels and battery levels***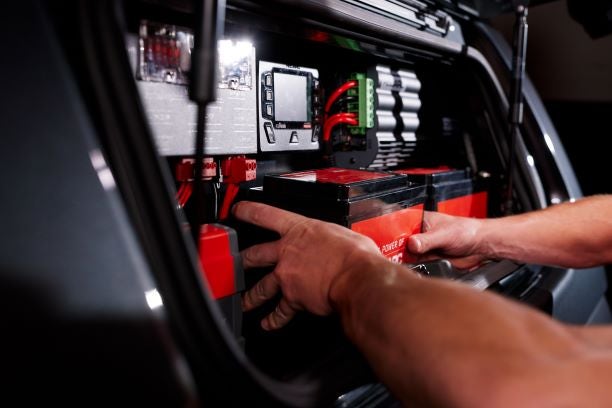 *Batteries must be paralleled with the same model.
**Lithium batteries are not recommended for cranking applications.
***When paired with a Manager30, RedVision will provide battery information.