Safari 4x4 Engineering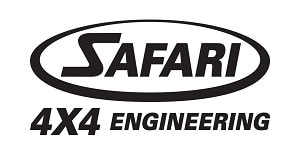 The Safari range of recreational 4×4 and commercial 4×4 products represents the best in innovative automotive engineering where each product release is the result of a comprehensive research and development program designed to produce a totally engineered and thoroughly tested package.
For decades Safari 4×4 Engineering has designed and manufactured automotive snorkels and 4WD performance systems made to enhance the performance, durability and driveability of 4×4 vehicles.
Safari pioneered the automotive snorkels found on classic Ford, GM Isuzu, Jeep, Land Rover, Mazda, Mercedes, Mitsubishi, Nissan, Suzuki, Toyota and Volkswagen 4×4's.
Safari's signature lies in the quality and durability of its components, the attention to detail in every system and the absolute standard that "product performance must always be reliably achieved".
Safari Snorkel and Armax Performance Systems include Safari 4×4 Snorkels for Australia/New Zealand and International 4WD Vehicles, ECU Engine Control Units, Intercoolers, Turbochargers, Intercooled Turbo, Exhaust, Oil Cooler, Gearset and Clutches.
Online: www.safari4x4.com.au