Prolan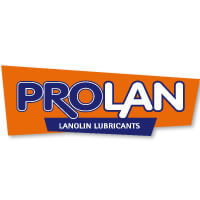 Prolan is aNew Zealand made natural lanolin corrosion inhibitor.
Prolan's main ingredient, lanolin (Natural Wool Grease), is one of the most versatile natural substances on the planet. Its unique properties surpas other petrochemical products in performance, reliability, longevity, protection safety and asset maintenance
Common uses & applications
To stop rust on 4wds and quad bikes
Chassis of trucks and vehicles
Heavy machinery applications e.g. fertilizer loaders and spreaders
Rust protection for exported machinery
Rust protection for stored equipment e.g. Saw blades, plough boeards, harvesters and mowers
Online: www.prolan.co.nz
No products were found matching your selection.